You may already know that wallpaper is currently experiencing a revival, but the breathtaking panels we're seeing today are not simply a 2021 update on the fiercely popular (and then just as fiercely sneered at) designs of the 1960s and '70s. In fact, this 'trend' predates almost anything else you care to think of when it comes to interior design.
WALLPAPER THROUGH THE AGES
Once upon a time in wall coverings…
105 BCE. That was the year – according to The Wallpaper Book by Geneviève Brunet – that paper was first invented in China. And it didn't take long for people to begin hand-painting great swathes of  it to display on their walls. From there, 'wallpaper' made its way over to Europe in the 16th century, where chinoiserie and cornucopia of fruit were some early popular designs. Today, the earliest surviving fragment of European wallpaper can be found at Christ's College in Cambridge. It dates to 1509. 
More than a pretty picture
Over the centuries and across continents, wallpaper has been about so much more than decoration. It has defined social classes. It has inspired artistic movements. In 18th-century England, its lavishness was such that a property tax on wallpaper was introduced, and creating forgeries was punishable by death. 'The history of wallpaper is not simply a history of ornamental patterns and designs,' according to curators at the Victoria & Albert Museum's exhibition 'A Brief History of Wallpaper'. 'It is also a fascinating record of technological ingenuity and changes in patterns of consumption and domestic taste.'
ASK THE EXPERT
Cara Saven is one artist and entrepreneur who is helping to keep the spirit of wallpaper alive today. Her company, Cara Saven Wall Designs, has been creating custom products since 2006. We asked her  to share a little advice for those of us new to the delights – and difficulties – of installing wallpaper. 
Why wallpaper?
People are looking for ways to express themselves in their homes or offices. Wallpaper allows this much more easily than paint does. It also adds interest to a space and becomes more  than a decor item; it becomes a talking point.

Are there different categories of wallpaper?
Yes. The fundamental difference is in the way the wallpaper has been printed: 
• Screen-printed wallpaper, for example, is the one you buy in rolls from a fabric or hardware shop.
They have been produced in volume. 
• Large-format printed wallpaper is printed specifically for your wall size. Traditionally we were restricted to printing these types of wallpaper on panels 1.2 m wide and then would 'stitch' them together on a wall to create a seamless installation. Nowadays we can print wallpaper in one big piece, so you never have to have join lines. This is what we refer to as seamless wallpaper. 
• Within the seamless wallpaper category, we have additional options, such as our local product called Vividtex, unique in its printing process resulting  in a wallpaper that is scratch-proof, water resistant and has a print quality second to none. 
• Self-adhesive wallpaper or vinyl means it comes with a sticky backing, so you don't need glue.
What should we keep in mind when shopping for wallpaper?
As with anything, you get what you pay for. There are so many options out there, but the key
is to buy something you are going to love touching and looking at, and that is durable. Wallpaper is
not cheap, so longevity is key.
DIY? Or call in a professional?
Our wallpaper is incredibly resilient, so we tell our clients that if they want to install it themselves and they mess up, they can actually remove it and start again. However, wallpaper is a tricky animal, so I would suggest getting a qualified installer to complete the job. They're also quite adept at cutting around things such as air-con units and bathroom fixtures, which often get in the way.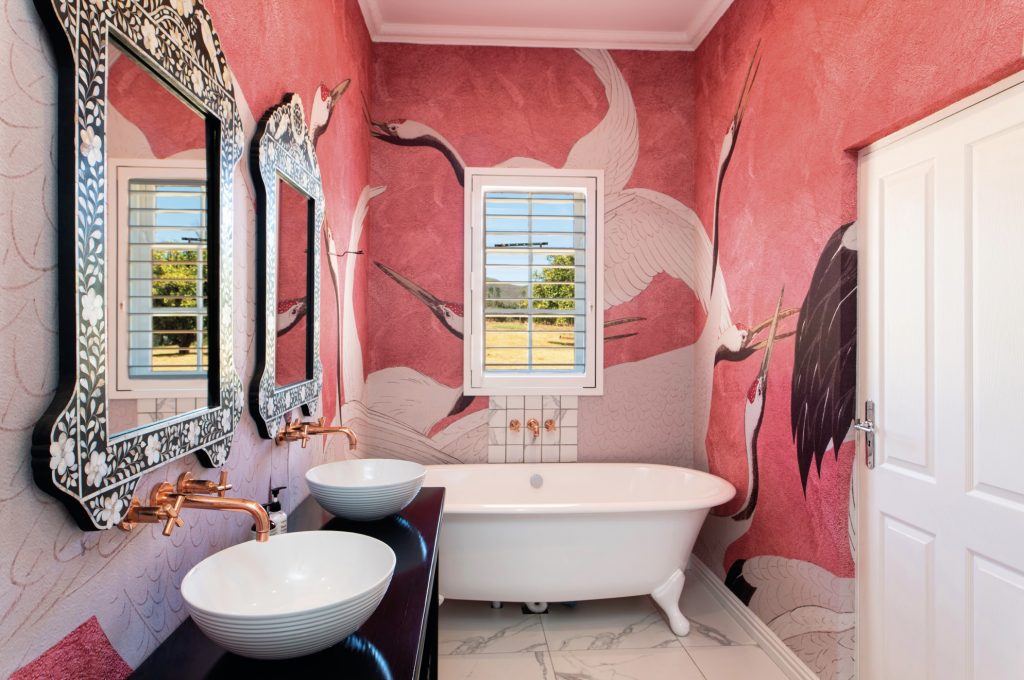 Design Forecast
Over the last, oh, 2 000 years or so, wallpaper trends have been fairly diverse, including everything from repeating patterns and tooled leather, to nature scenes and depictions of historical moments. (In fact, the most expensive wallpaper in production today depicts the American War of Independence.)
So, what do you choose heading into summer 21/22?
'We're seeing an uptake of designs that are nature-oriented,' says Cara. 'People  are looking for ways to bring the outdoors inside. Watch out for wallpapers with birds and animals in them – especially ones specific to
the region in which you live. We are also seeing a move towards local. The popularity of our local CS&Co collaboration range has shown that clients are wanting to support local artists to the extent of having their work on a large scale on their walls.'
If you opt for the DIY route, Cara suggests that you:
1. Go for seamless wallpaper, rather than panelled.
2. Rope in at least two people to help you. 
3. Use a very sharp blade if you need to trim around anything, so you can cut cleanly.