Take On the Heat or Embrace the Cold with Ease, When you Go for the Samsung WindFree™ Air Conditioner
Finding ways to stay cool during hot days, or even warming up your home during the colder months is wonderfully effortless with a Samsung WindFree™ air conditioner. These innovative air conditioning units gently and quietly disperse air through 23,000 micro air holes, while its advanced airflow cools a wider and larger area more evenly without the unpleasant feeling of cold wind. It's also equipped with intuitive A.I features and innovative air filters to eliminate germs and bacteria for a rewarding sense of well-being. Summer or Winter, instant comfort is just a click away.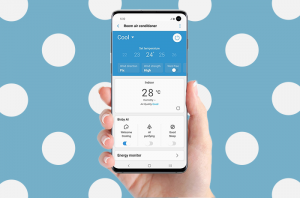 Here's why you'll be glad you went WindFree™: 
You can control and monitor the temperature in your home using the SmartThings App. with just a touch of your smartphone or tablet. This is great for prepping your home, even before you set foot in the door.

 
A motion sensor detects if there is no movement after 20 minutes and will automatically switch to the WindFree™ mode to save energy. You can also set it not to blow air towards you, or to follow you wherever you move.
The AI Auto Cooling automatically optimises various modes by analysing the room conditions and usage patterns. Based on your preferred temperature, it automatically switches to the most appropriate mode to maintain the optimal conditions.
The WindFree™ Good Sleep mode creates the ideal climate for sleeping – without an unpleasant cold air flow. Its temperature control with WindFree™ Cooling which can help you fall asleep fast, sleep deeply and comfortably.

 
Your health is prioritized with Air Purifier PM 1.0 filter on the AR9500 WindFree™, which eliminates bacteria, allergens, and other microorganisms. It acts like a standalone air purifier, as its electrostatic chargers seamlessly capture and destroy ultra-fine particles.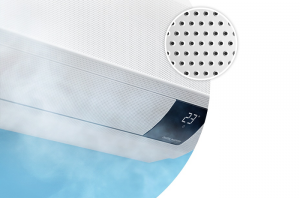 The Samsung WindFree™ is also ideal for South Africa where electricity costs keep rising as it cools and warms your rooms faster while using less energy, saving up to 77% on electricity. To explore the many hard-to-ignore reasons to go WindFree™ click here. 
1. Based on independent testing by Intertek. Removes 99 % of certain bacteria, including Staphylococcus aureus and Escherichia coli. 
2 .Available on Android and iOS devices. A Wi-Fi connection and a Samsung account are required. Access to Voice control feature is dependent on country.
3. A Wi-Fi connection and a Samsung account are required. ** Stores user data, preferences and usage patterns to suggest the most useful options.
4. Tested on the AR09TXCAAWKNEU model compared with the Samsung conventional model AQ09TSLXEA.