At the age of 27, emerging artist Chris Soal has already won several awards and shows no signs of slowing down. We catch up with this creative soul.
It's not often one can say they've worked with Dior, but you have. What was it like?
It was an unbelievable experience, one I certainly didn't expect to appear on my horizon, especially not at this phase of my career. I had two works on show in London in 2019 that generated a bit of a buzz, which ended up being featured by Forbes Magazine. It caught the eyes of the Dior team who invited me to participate in the 5th edition of the Lady Dior Art Project. It was a year-long process, of keeping a very big secret and liaising with their salon to bring the three Lady Dior bags to life. It was initially a bit daunting working with an international fashion house with a 75 year legacy, but I looked at my own work, trusted my instincts, and brought what I felt only I could to the collaboration. 
Toothpicks and bottle caps are prominent materials used in your work, why? Tell us the story behind this.
Not only are these materials readily accessible, but they're embedded within the larger social fabric, which allows me to engage with concerns that I feel are significant to this time and place. 
As a Wits student walking my daily morning route through Braamfontein, a glint of gold caught my eye which turned out not to be the treasure my imaginative mind instantly conjured it to be, but rather a discarded bottle top lying in the gutter. Mulling this over, I found myself thinking of the bars I would drink at where bent beer bottle tops resembled cowrie shells, whose form was for me associated with beach walks and spoke to ancient trade routes, even pre-colonial forms of currency. The gold colouring and metallic content of the bottle top became a way for me to interrogate Gauteng's mining history. 
The toothpicks, much like the bottle tops, were features of the social eating and drinking landscape. I picked up the toothpick container, and contemplated the swirling assemblage that arrayed itself in the plastic bottle. In it, I saw Fibonacci sequences, sunflower seeds, and repeated forms in nature. I snapped a quick picture, and after two years, the image returned to me.
I had dismissed it originally as it's a material that we all dismiss. It's so common it's invisible.   There was almost a sense of waiting until I could take it as something 'worthy' of becoming an artistic medium. I had to overcome my own biases towards the material — which is interesting, because one of the themes that I try to address throughout my work is the idea of perception and the value we attribute to things.
What has been a career highlight thus far?
Apart from the Dior collaboration I think the nomination by William Kentridge for the SEED Auction in 2019 still holds a special place in my heart. He wrote very kind words about my practice accompanying the catalogue, saying 'I am convinced by the seriousness of his undertaking. The intensity of his engagement with his materials, and the way in which he allows his materials to lead the work is astonishing.'
His footprint on Southern African art definitely left an impression on me. My dad actually bought me his book '6 Drawing Lessons'. I read this at a crucial time in my budding practice. His often-repeated phrase, 'the studio as a safe space for stupidity,' really gave me the freedom to experiment and allow for playfulness in what was then a very delicate budding practice. I still carry those words with me.  
You're still young, what are your other goals to want to achieve that's not related to art?
A lesson that this last year has taught me is that time outside of the studio can be as important as time in the studio. So I take my holistic lifestyle as seriously as I take my practice knowing how much they intersect. I also think that talking about dreams is one way to let them run out your mouth and escape, so I'll be keeping those plans to myself. 
You've had a solo and group exhibition at NIROX. Tell us about this experience and what it meant to you?
I remember my first visit to Nirox in 2017 as a final year student and I was immediately struck by the evident beauty and care in the landscape. It was definitely a dream of mine to exhibit there and I'm so happy I could, and in the manner we did with both the outdoor installation, Relic, and the solo exhibition, Elegy.
I was fortunate to be a resident at Nirox, mainly to project manage my installations, as well as interacting with the most fantastic artists who were simultaneously in residence. It was a nourishing time for me.
Overall, seeing my work in dialogue with the landscape brought a new dimension to the experience of those pieces. It's encouraged me to consider new contexts beyond gallery/museum spaces for my work to be seen, as well as to develop the skills needed to have the work in conversation with the landscape, and the demands and dynamics of that juxtaposition. 
If you're not creating/working, what do you enjoy doing?
Most of my life is aligned to benefit and enable my artistic practice. I exercise and play sports to make sure I'm fit and healthy, eating and sleeping well. I love to read works of fiction. I have friends and family I care about. I try to educate myself about things in the world that I feel I don't know much about. Having recently moved to Cape Town, I'm also enjoying the novelty of a new city and discovering the nuances of the space. 
Where in the world would you like to have a solo exhibition?
Mexico City – I think that the relationship between the dynamics of Mexico City and Johannesburg is very interesting, with some overlaps. Being situated at the intersection of the Global South and Global North has meant that much of the art there is politically attuned and socially engaged, and many artists whose practices I deeply respect have based their work there.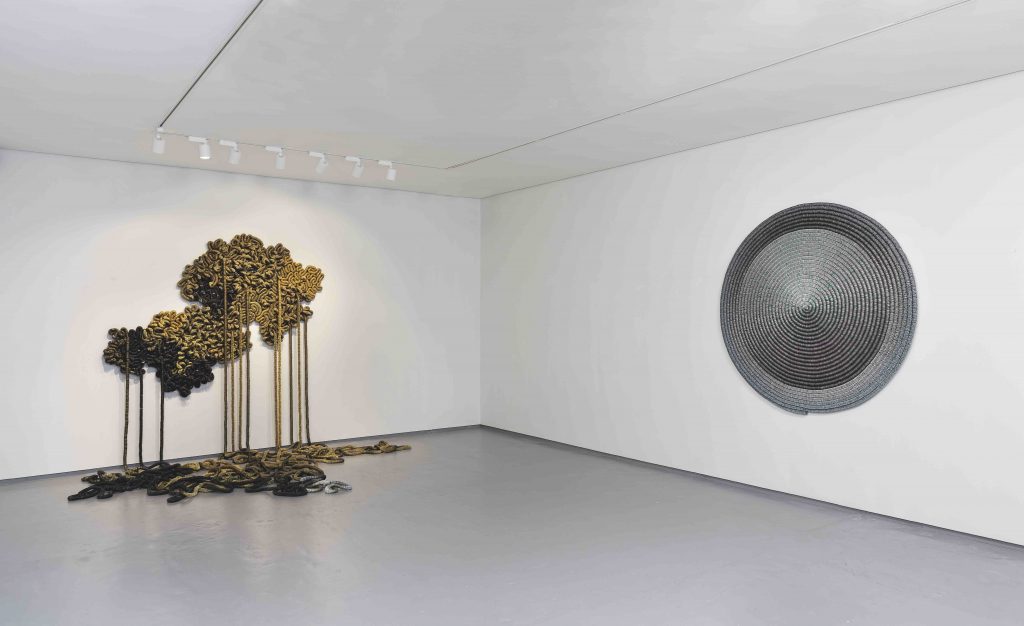 What are you currently working on?
Together with the outdoor installations, I'm dedicating some time to developing works on paper. I am very excited to show them because I have not really publicised that side of my work much yet, but there's much to be done before I feel that they're ready for exhibiting.
Find more of Chris Soal's work:
Website: www.chrissoal.com 
Instagram: @chris_soal 
Spaces such as NIROX in Johannesburg and WHATIFTHEWORLD Gallery in Cape Town.  
ALSO SEE: LOCAL ARTIST, GODFREY DAMBULENI ON HIS RECYCLED METAL ART