At first glance, these oil paintings could fool anyone into thinking photography was her medium. But Cape Town-based artist Caryn Scrimgeour has a keen eye for detail.
Getting to know artist Caryn Scrimgeour
When you are not Caryn Scrimgeour the still life artist, who is Caryn the person?
Caryn the artist and Caryn the person are exactly the same. I spend the majority of my time working and when I'm not working I'm thinking about whatever I'm working on. I tend to view the world in terms of whatever I'm busy with, and everything I encounter becomes potential material for a new painting. But other than that I enjoy early morning walks with my dog, pottering in the garden, drinking wine and cooking. Oh, and I'm quite a good handyman.
When did the bug to create art bite?
When I was 9-years-old I announced loudly to the world in general and anyone who would listen that I was going to be an artist. So armed with this proclamation, a pig-headed stubbornness and absolutely no artistic talent, I set about working out how to become an artist.
Why the choice to do still life?
I love objects. I'm extremely interested in the memories of life that inanimate objects contain, and their significance when viewed against a backdrop of individual experiences.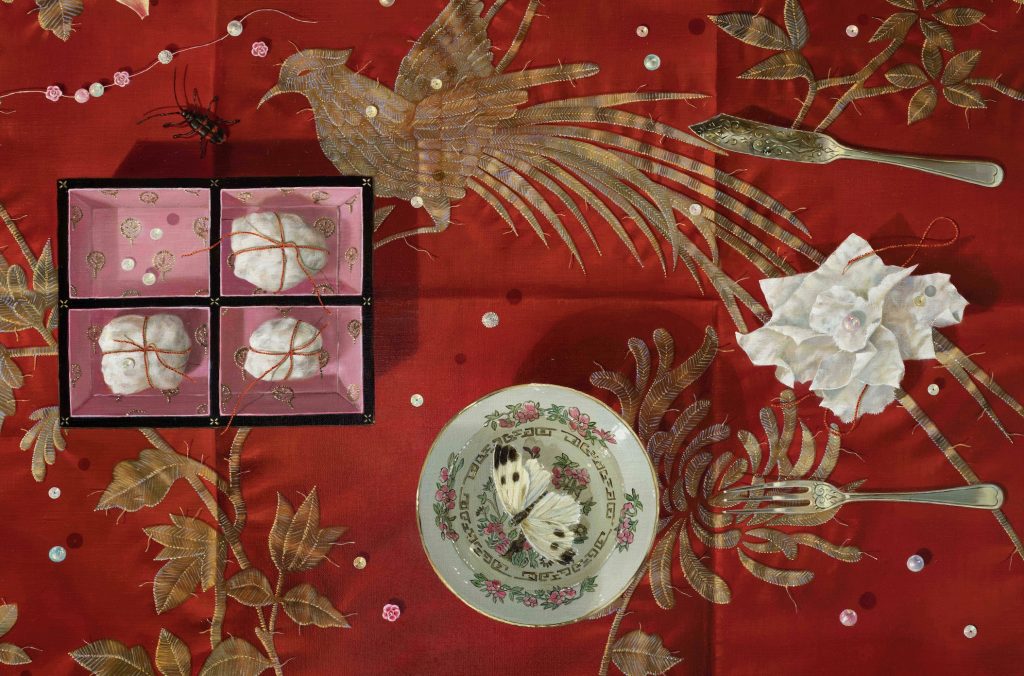 Who inspires you and your work?
I think it's more of a "what" than a "who". I'm inspired by all the intricate details of life, the things hidden just below the surface that we often forget to see. I'm deeply attracted to the work of 17th century Dutch still life painters and the rich symbolism of Vanitas paintings. I'm also drawn to the imagery and symbolism of Chinese and Japanese culture.
How would you explain your work to newbie art collectors?
Although my work is often referred to as photo realistic, I see my work more as an abstraction of reality. The aerial viewpoint forces a shift in the viewers gaze and a reassessment of the preconceived ideas of a still life painting. The paintings are intimate and intricate depictions of moments in time.
What are your top-3 career highlights?
I can't pinpoint highlights as such, but definitely the turning point for me was when I was first invited to exhibit at the Everard Read Gallery in 2004. It's been a huge privilege to be represented by them in Cape Town, Johannesburg, London and Franschhoek over the past 17 years.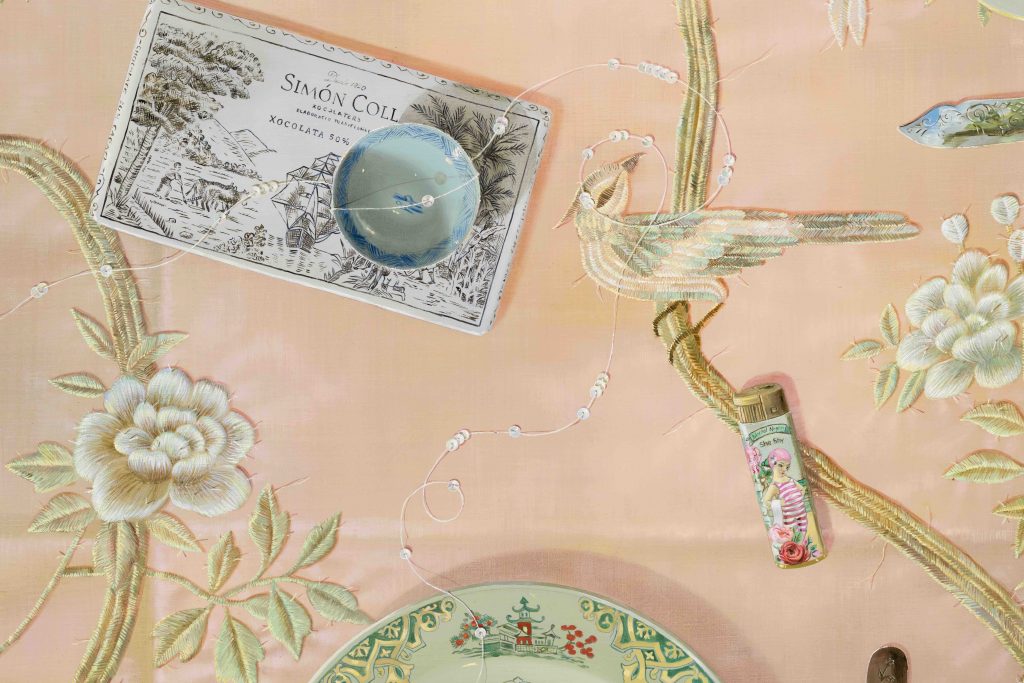 Tell us about your most memorable exhibition and what makes it so celebrated?
Exhibitions and their inevitable openings are quite frankly terrifying. It always feels a bit like standing naked in front of a firing squad, with nothing more than a glass of wine for protection. But having said that, it's extremely gratifying to be able to see people's reactions to the work after months of solitude in the studio. So for me, my 2018 exhibition at Everard Read Cape Town, My Borrowed Life, and my most recent show, Entangled, stand out the most.
As an artist what are some of the challenges you have had to overcome?
The biggest challenge for me is the endless solitude and isolation in the studio which can at times be overwhelming. But having said that, it's also the best part of what I do.
Have you at any point in your career considered giving up and doing something else?
Absolutely not! I've done enough other things in my life to fully appreciate the luxury of being able to do what I do.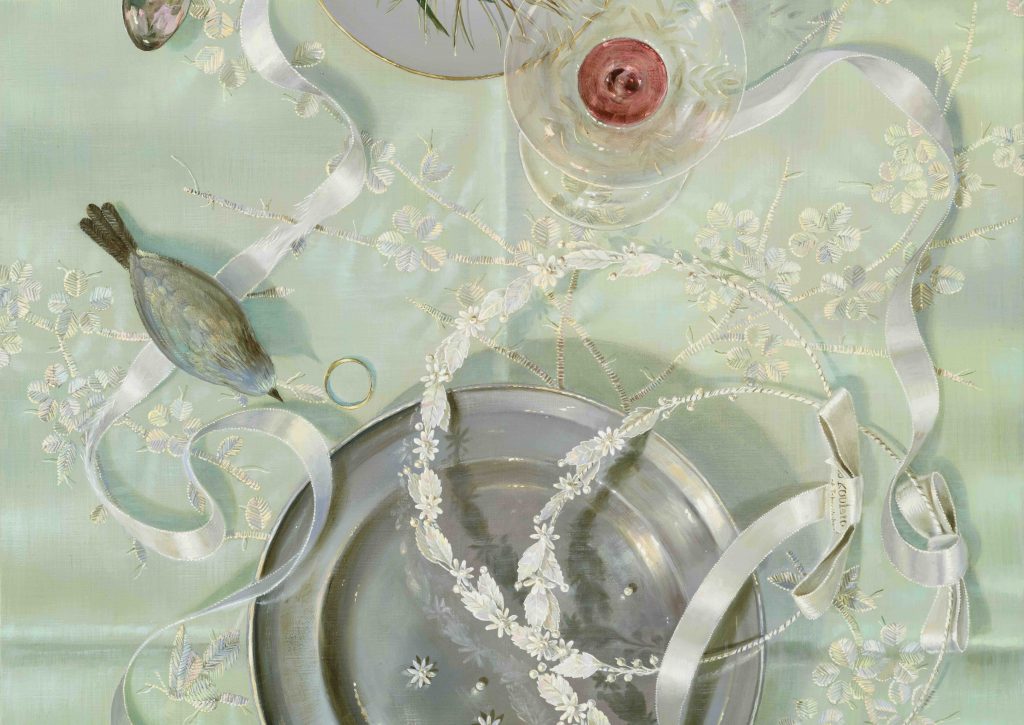 What are three things you simply cannot live without and why?
My work, wine and my toolbox. I would fall apart without the first two and everything around me would fall apart without the latter. I should probably include my five pairs of pink overalls and Micheal Harding's Genuine Chinese Vermillion.
What advice would you give your younger self?
None. My 9-year-old self made a pretty good decision and one that I've never regretted. All the mistakes I've made along the way are part of who I am and have shaped my perceptions of the world and the work that I do.
What do you hope to accomplish this year (2022) either personally or as an artist?
I'm in a pretty good space at the moment, so I hope to continue along the same trajectory this year. I see my work more as an ongoing volume of short stories or a long meandering poem rather than something that has a definite beginning and end.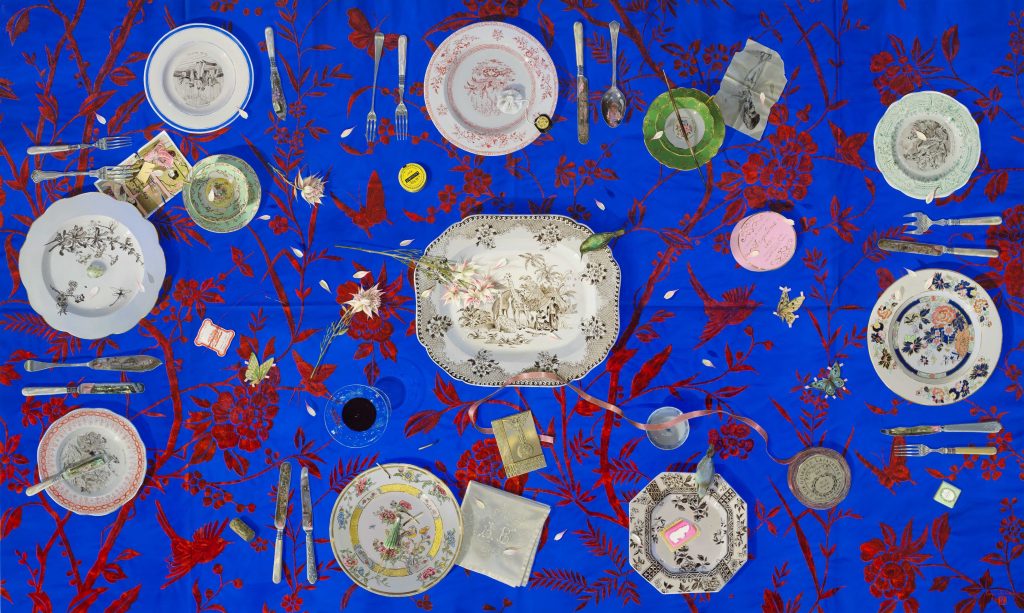 Where can readers view or purchase your work?
My work is available through the Everard Read Galleries in Cape Town, Johannesburg, London and Franschhoek. I also take part in exhibitions at Knysna Fine Art and the Rust-en-Vrede Gallery.
Find the artist and her work online:
Instagram: @caryn_scrimgeour
Facebook: Caryn Scrimgeour Artist
Website: www.carynscrimgeour.co.za
TEXT: CANDICE ESBEN
IMAGES: MARK HALL PHOTOGRAPHY
ALSO SEE: ARTIST CHRIS SOAL ON HIS IMPRESSIVE CAREER THUS FAR