Let these spaces in and around South Africa be your inspiration to create moreish designs and take maximalism to a new level.
Stumbling across this beautiful restaurant and venue hire space, The Grand Exotic located on the North Coast of KZN is every bit a dream space of note. Owner Sarah Owen gave us the details on creating, decorating and owning this incredible space in which she continues to improve on, calling it a work in progress. 'I break all the conventional rules of decor, over scale spaces and literally overdo the decor until is has no option but to work. I just love OTT!' claims Sarah. While the Grand Exotic is only three years old, it has been detailed and decorated to a tee. The space is themed using beautiful Indian palace doors, windows, columns and other ancient artefacts sourced and imported during 37 trips to India. 'My partner Curt Wolff and his small team, are responsible for all the building and beautiful gardens. We worked together juggling the architectural features I had sourced, and adapting them to fit into the building plans.' Says Sarah when it came to construction. While Curt did the construction, Sarah designed the building, decorating and painting from top to bottom, inlacing murals and stain glass windows. The attention to detail is one to take note of with inspiration around every possible corner.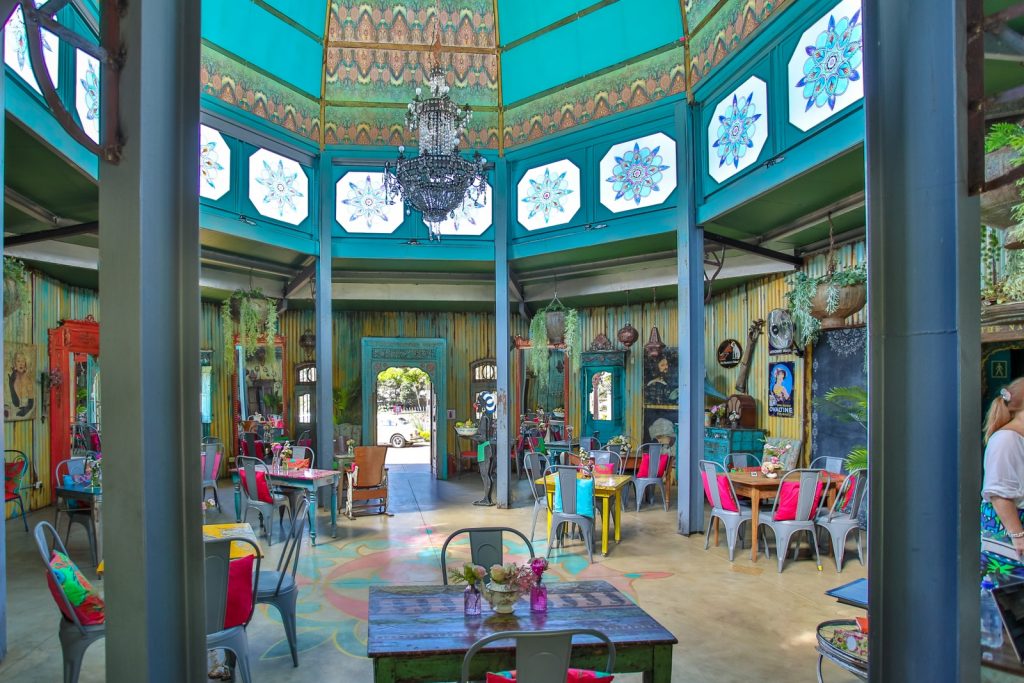 With a hotel in Johannesburg and now more recently in Cape Town, Hotel Sky is nothing short of the definition of extravagant. The hotel lobby is seen with three giant chandeliers, flowered wallpaper splashed across the sides and animal print on the ceiling. Not to mention, the gold ornate reception desk, huge marble tiled floor and an AI robot that's sure to put a smile on your face. Besides the overly glam looking hotel, their focus was very much on technological innovations, including a remote digital booking and check-in service, app-based door keys as well as a digital grand piano that plays personal requests. Founder of Hotel Sky, Paul Kelley had a vision to offer a hotel experience that incorporates the best in technology and being on par with global trends and demands. The hotel's fun and playful nature allows us to imagine that anything is possible when it comes to design and not to be afraid to mix and match patterns, textures and size.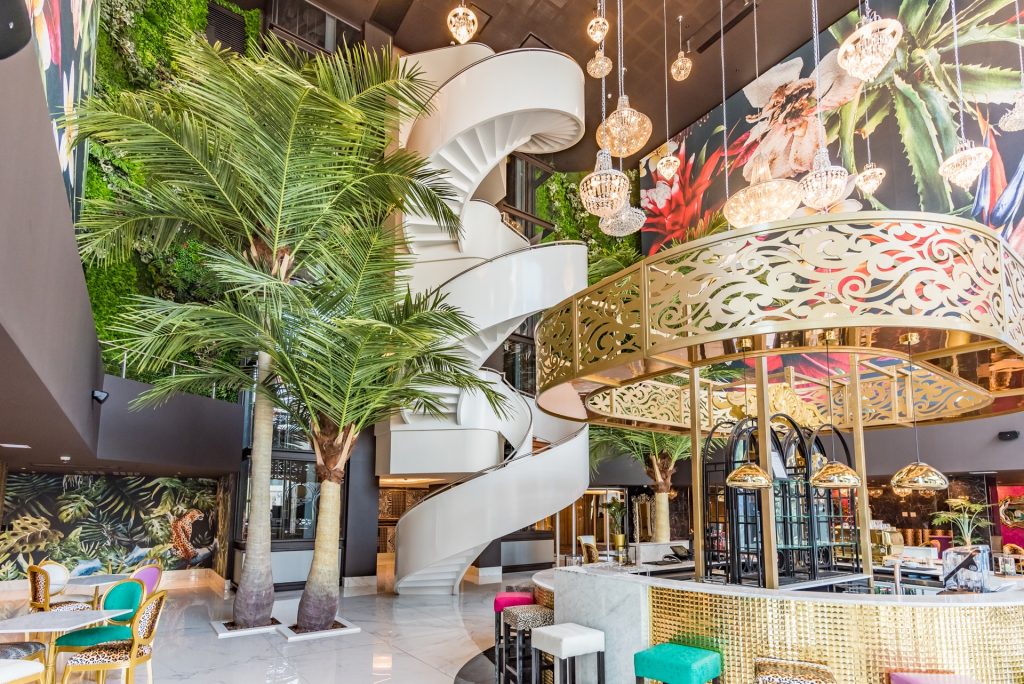 Zioux (pronounced Zoo) is the third, and most extravagant edition to the Marble Group's growing portfolio of leading hospitality establishments. It opened in November 2021 as a champagne bar and cocktail lounge, being adventurous, sophisticated, playful, and a glamorous space to escape and break free from Joburgs' urban jungle. The Marble Group team partnered with GRID, Blackline Group and Redecco to design the look and feel for Zioux. The concept is a play on the feeling of being caged and breaking free, and it plays out into 400m2 space as a luxurious lounge where guests indulge in champagne and cocktails. From the stained-glass canopy and the lion's claw door handles at the entrance, everything about Zioux speaks to African art nouveau, a reminiscence of old London' private member's club, and the vibrancy of Africa. Interior designer Irene Kyriacou has developed Ziux's decor to reflect a freedom of movement, contrasts between texture and colours, and a juxtaposition between serious and fun.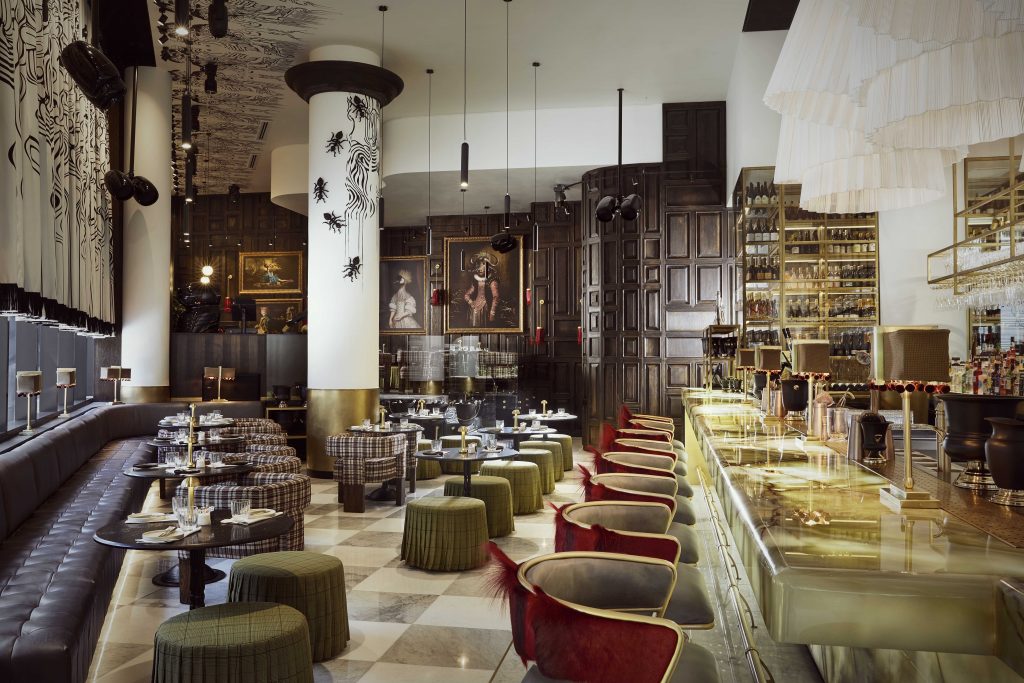 A staple spot on Kloof Street in Cape Town, Kloof Street House is a dining oasis set in a beautiful Victorian house that exudes ample character and an enigmatic experience. An old Victorian house was converted into a restaurant, but kept its old world charm with interesting rooms and spaces, from the library lounge, to the fairy-lit garden, every space is so unique, so full of history and oh-so beautiful! Beneath the pressed ceilings of this twentieth century victorian house is a reservoir of design passion. From beautiful chandeliers to a suitcase- stacked bar, the restaurant is a visual feast for the diner with a curious mind and a wandering eye. Live jazz over a good Sunday lunch makes this the perfect weekend spot to relax and catch up with family while marvelling at every little decor piece the home offers.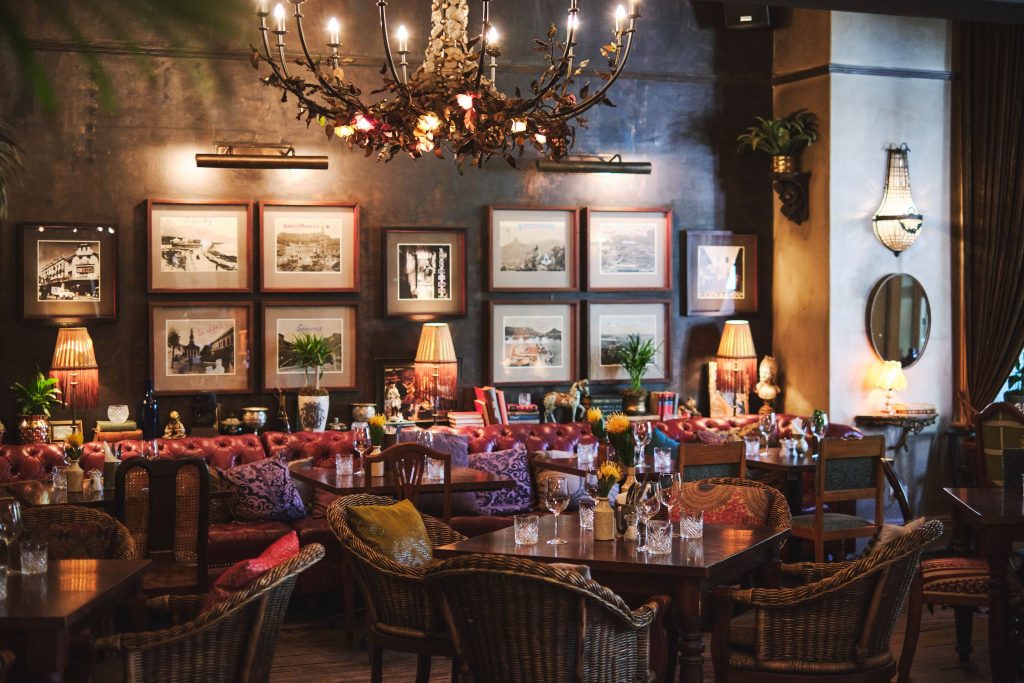 Set in the heart of Cape Town city centre, The Athletic Club & Social embodies the classic gentleman's club, with a Mediterranean menu, signature drinks and a venue that spans over three floors filled with beautiful velvet chairs, wooden flooring and Persian carpets to adorn the space. While the building dates back to 1900, the history has been well preserved with vintage cabinets, newspaper articles and sport memorabilia, yet refined and eclectic decor to keep the place current.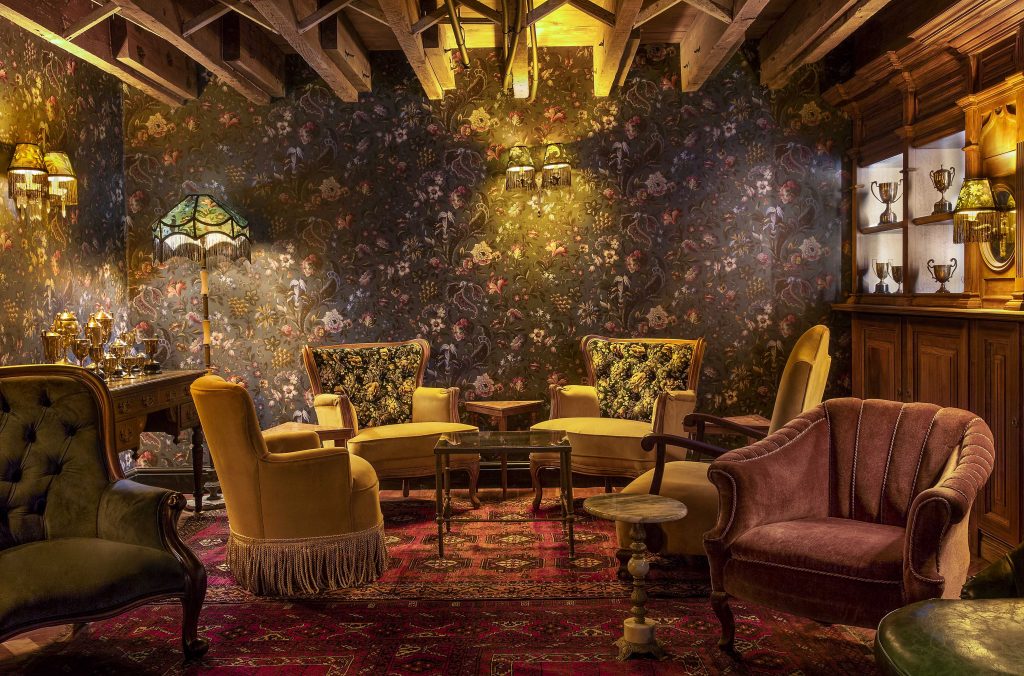 Text: Yashna Balwanth
Photography: Courtesy Images
ALSO SEE: THE HISTORY OF WALLPAPER