This year, many a once avid traveller to exotic holiday destinations abroad have opted to invest their money and time in improving their homes, creating fabulous outdoor living areas with unique pools and spas as the focal point.
Swimming pools have evolved over the last 20 years. It is no longer merely a focal point of the backyard, but has become more of a  fundamental part of outdoor living. As large gatherings slowly become the norm once again, 2022 promises to bring back the times when we can have lots of family and friends over to celebrate holidays, birthdays and more. What better a place to entertain than in an outdoor living area, with a pool sporting the latest in outdoor trends? 
Tanning Shelf or Lounging Ledge
Also known as a Baja pool in some countries, these shelf-like areas of the pool, 15–30 cm deep, serve as an additional entry into the pool, but are mostly used for lounging partially submerged in the water. Children and dogs can play in this area as it is shallow and therefore safer. Chaise loungers made of plastic or other suitable outdoor materials are the most common furniture used in this area, perfect for reading a book or having a cocktail whilst cooling off at the same time.
Plunge Pools
Don't think your garden is not big enough for a pool – small plunge pools are trending. Even if you have a large garden, some people are still opting for a plunge pool surrounded by landscaping and other great outdoor features such as a fire-pit or seating area. The addition of jets can turn your plunge pool into a spa pool too, for the ultimate entertainment tool.
Spa/Pool Combos
Spa/pool combos have also made the list of the hottest pool trends. This is another way to enjoy your outdoor living area all year round. The spa is built into the pool, providing an option for winter warmth or a way to cool down in the summer, all built into one feature.  
Infinity Pools
Infinity pools will never go out of fashion! They are generally used to make the most of a beautiful view you want to appreciate whilst relaxing in your pool. Infinity pools are the best pool party feature, allowing you to sip sundowners and watch the sunset while cooling off at the same time.  
Trendy Finishings
 

Fire and Water

Fire and water combinations are proving to be very popular in the form of firepits or bowls alongside your pool area. This combination gives warmth as well as an ambiance, allowing the pool owner to utilise their pool area even when the weather is cooler.

 

Water Features

Numerous water features – blades, spouts, fountains and pool waterfalls – are popular ways to upgrade your pool experience to a more sensory feature. Running water creates a calming effect and blends the pool area better with the natural surroundings of your garden.
 

Tiling

Tiling was always considered expensive in pools, but it has become much more affordable and thus is a growing trend. Mosaic tiles never go out of fashion and in ancient times were a sign of luxury. Mosaic does not require special care or maintenance beyond the normal pool service and brings personality to your pool. Those who want to bring  some character to their pool might want to give this option a try this summer. Be in style with tile!
 

Marble Plaster/Fibre Lining Colouring

There has also been a shift in marble plaster and fibre lining colour choices from the ever popular white to black, charcoal, and deeper hues such as dark blue and green. This warms the pool water far quicker than any other colour and blends the pool area with the surroundings. The marble plaster and fibre lining also emulates the colours of a pond or dam. 
 

Paving

Surrounding paving has also evolved. The old-fashioned slasto is no more. Even the clay and flagstone paver are now somewhat outdated. In comes the more textured pavers and wooden decking to take over pool trends. Wooden decking is super popular this summer together with meticulous landscaping that gives the pool area a little something extra. Choose a low-maintenance option for minimal upkeep.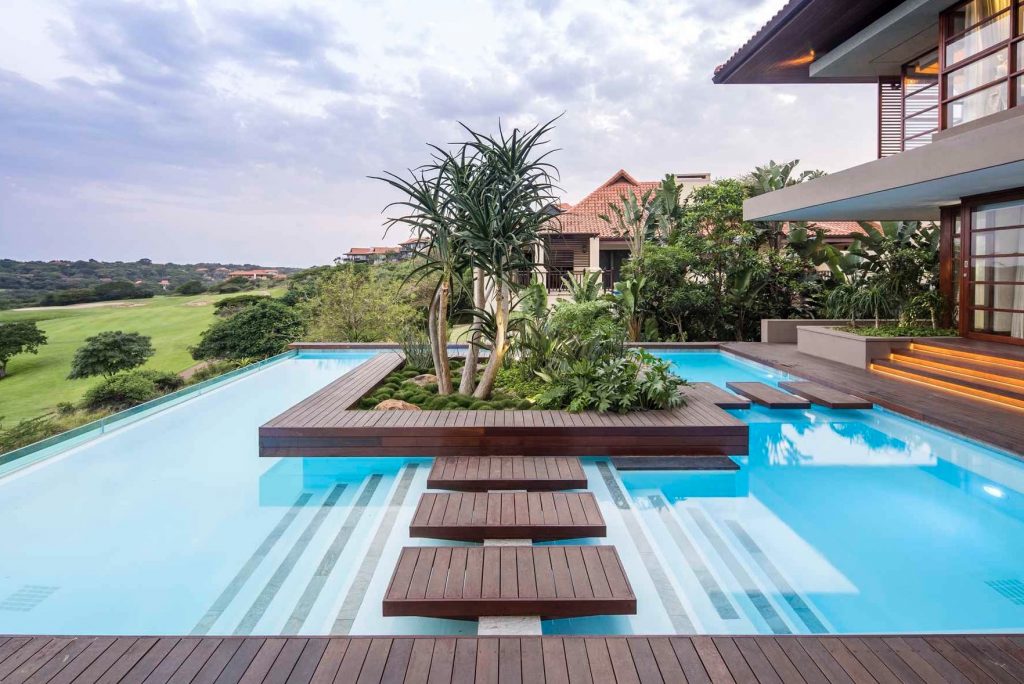 Lighting

Modern LED lighting is very popular and gives just enough illumination without being too harsh. There are also a growing variety of eco-friendly options. LED lights are available in white, blue and also colour changing options that can easily set the tone for an evening pool party or even a romantic rendezvous, creating a picturesque outdoor living area. 
 

Pool Automation

Smart pool systems can control lighting, pool covers, water temperature, pool cleaners and even the music – all via WiFi. These tools are essentials in party-based celebrations, allowing you to control the mood and keep the pool pristine with a quick click of a button.
Top tips for summer pool parties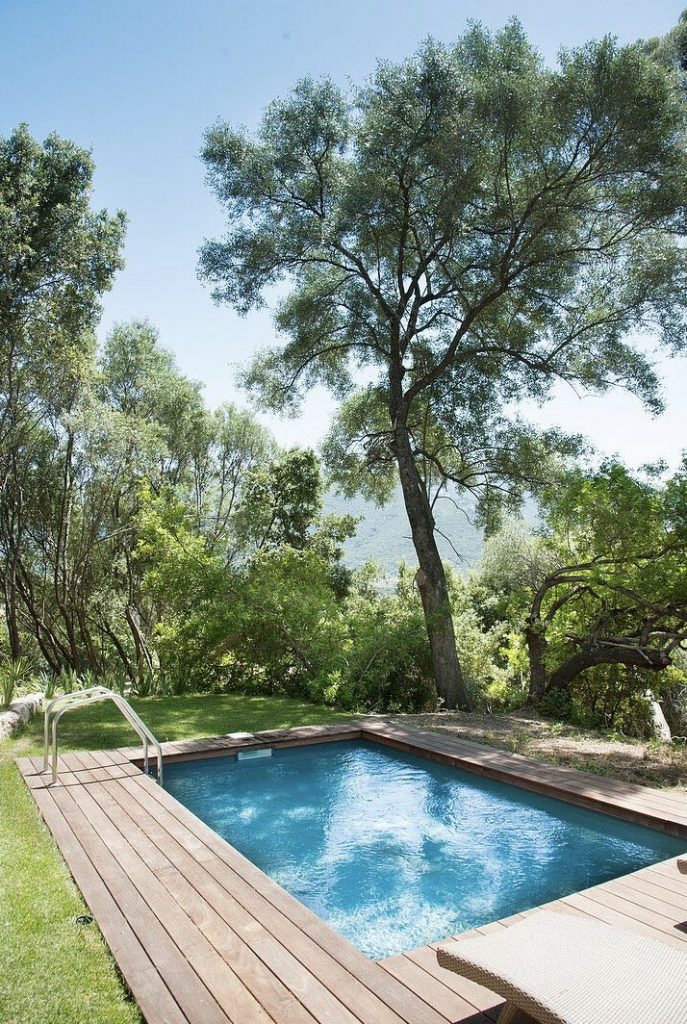 1. Keep children in your direct sight, stay close and supervise them when they are near
or in the pool.
2. Install proper barriers, covers and alarms on and around your pool. These can be lifesaving devices. A fence of at least 1.2 m in height should surround the pool on all sides and should not be climbable by children. The gate should be self-closing and self-latching.
3. Never open only a portion of the pool cover/net to swim as people can get trapped under the covered portion and panic.
4. Have clear pool rules for any visiting children such as no running, no pushing, no dunking
and no rough play.
5. Don't drink and swim. Tipsy guests should  be encouraged to  avoid the pool.
6. Invest in some trendy plastic glasses for drinks to ensure there is no glass around the pool area.
7. Don't store obstacles around the pool area  that can become a tripping hazard.
8. It's good to have someone with CPR training around.
ALSO SEE HOW TO 'FENG SHUI' YOUR HOME