Drawing influences from London's marginalized communities, the 20th Serpentine pavilion has been designed by Johannesburg-based architect, Sumayya Vally. The 31-year-old Indian South African hopes her design will encourage community bonding and social reflection through 'speaking spaces'.
Twenty years after the inaugural pavilion for London's Serpentine Galleries was commissioned, South Africa's Sumayya Vally became the youngest-ever architect to win the prestigious commission in 2020, at the age of 30. However for her, this was so much more than just the biggest project for her firm, Counterspace. It was a chance to break boundaries and make a social impact, while emphasizing architecture's role in driving change and bringing communities together.
In many ways, the pavilion's design reflects these nuances. For starters, it is the first one to focus on migrant communities and their role in shaping society; something that Sumayya has experienced firsthand. Notwithstanding the pavilion's setting in Hyde Park, one of London's wealthiest suburbs, it is aimed at attracting people from all corners of society, with a focus on empowered spaces.
Notable too, is the fact that the commission was won by an all-women team of architects led by Sumayya Vally and the co-founders of her firm, Counterspace; Sarah de Villiers and Amina Kaskar.
The pavilion was opened to the public on 11 June 2021 after a year-long delay due to the Covid-19 pandemic; the first one to be commissioned over a two-year period.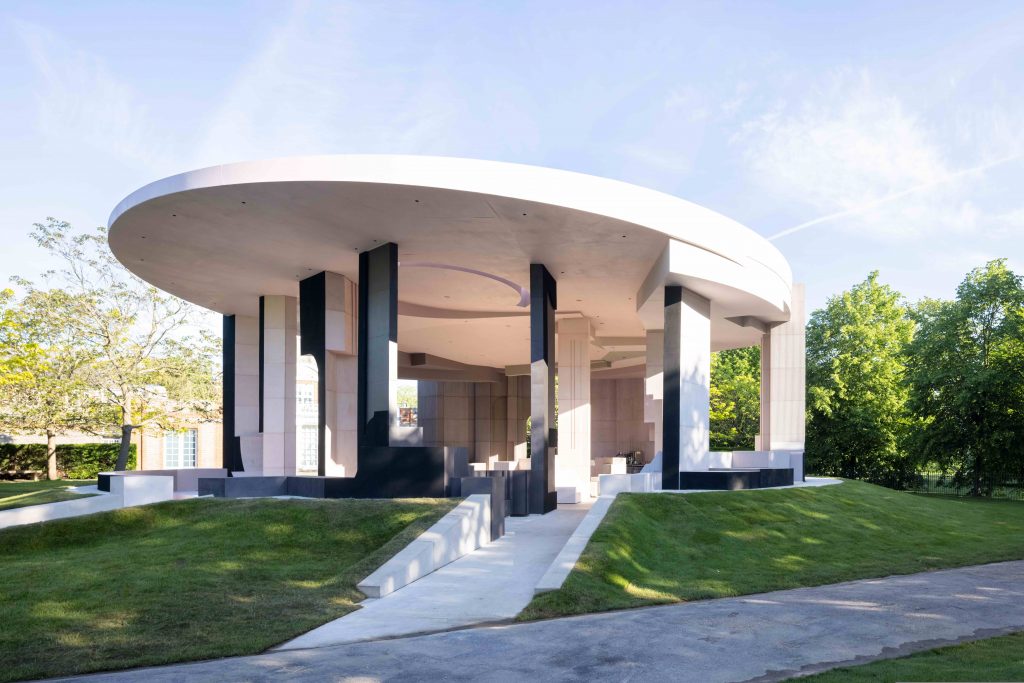 Celebrating architecture's new voice
For Sumayya, it has been a season of accolades. After winning the Serpentine Pavilion commission, she appeared on Time Magazine's TIME100 Next List, as the 'World's Most Influential Architect Shaping the Future in 2021. Vally was the only architect listed among the most influential people in the 'Innovators' category, based on her commitment to architecture. This global recognition is a well-deserving tribute to her dedication and hard work towards social upliftment through architecture.
Growing up in Laudium, then an Apartheid township in Pretoria, Sumayya experienced the struggles of being a female architect of colour in a relatively male-dominated industry. However, this only made her resolve stronger – not only to shatter the glass ceiling, but to give voice to the underserved in society through her work. A graduate of University of Pretoria and Witwatersrand University, Sumayya started her firm Counterspace in 2015, while still studying.
Named after the ideal that 'every space has an equal and opposite counter-space', the Johannesburg-based firm is a collaborative studio dedicated to community engagement and socially impactful design. Counterspace develops installations, exhibitions, performances, choreography, urban research and design, with projects that underscore the narrative of how architecture can be a force for change. Counterspace also runs Counterparts, an interdisciplinary space, residency, dialogue and publishing platform, centered around collaborative ways of working. Vally and her fellow Counterspace co-founders also teach at the Graduate School of Architecture, Johannesburg.
Sumayya's earlier projects include Johannesburg's Brixton mosque in which Counterspace transformed the structure of an old Dutch church with a minaret of light that appears five times a day. There was also a display at the inaugural Chicago Architecture Biennial in 2015 correlating Johannesburg's infamous mine dumps to their role in shaping socio-economic and belief systems. For the Folded Skies mirror installation for the 2018 Stellenbosch Spier Light Art festival, she used recycled mine dust and tint mirrors to reflect the colours of Johannesburg skies. Ndebele Geometries is a mobile installation aimed at helping children study mathematics through the distinct shapes found in homes of the Ndebele community in North-east Pretoria. Sumayya's ongoing project, Pan African Plates focusses on Johannesburg's Yeoville Market, Fordsburg and Little Mogadishu in Mayfair and how the South Asian and Muslim immigrants in these communities bond over food. Another project due to be completed this year is a mixed use building in Johannesburg's Crown Mines area.
In all her projects, her love for the city of Johannesburg and its influence in shaping her architectural prowess is evident. Keenly noting how the city's Apartheid city planning was used to segregate the races and perpetuate social imbalances, Sumayya made it her mission to showcase how architecture can be social, public, inclusive and diverse, instead of dividing people based on inequality. She believes that the pandemic has only amplified the disparity between privileged and marginalized communities. Thus, she aims to 'build differently', with designs aimed at bringing people together, through spaces that spin their own narrative. This ethos has also shaped her design of the Serpentine Pavilion.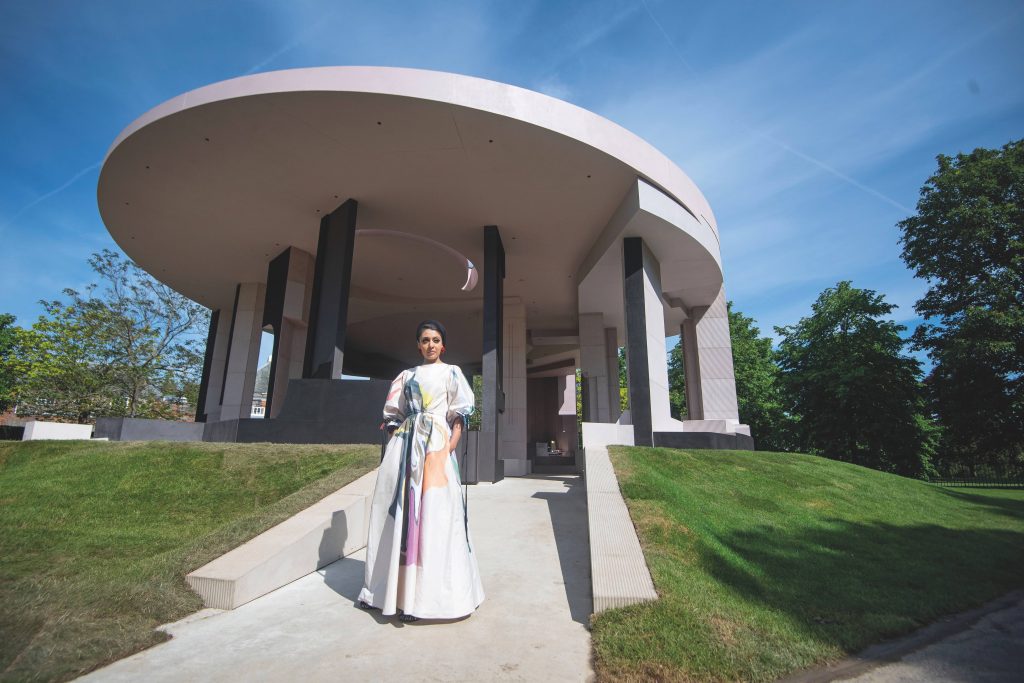 Pillars of hope and community bonding
The annual designing of a temporary pavilion at London's Serpentine Galleries is an opportunity for international architects to showcase their talent. The entry is free and attracts approximately 1.2 million visitors a year, becoming a venue for cultural events. For Vally, this was an opportunity to showcase inclusion and diversity in spaces where people can interact and connect. This was especially important given the pandemic-induced forced isolation.
The delay in the pavilion's opening, though challenging, gave her more time to research on the various design elements of the structure. During this period, Counterspace also set up a bursary program to support pandemic-hit migrant cultural organisations. With a focus on London's diasporic communities, Vally researched a number of areas such as Brixton, Hackney, Hoxton, Tower Hamlets, Edgware Road, Barking and Dagenham, Peckha and North Kensington. She also focused on prominent venues which were drivers of change such as the Four Aces Club in Dalston, one of the first UK venues to play Black music, the Centerprise publishing house which first published Black and queer literature, the Theatre of the Black Women, Britain's first Black women's theatre company, the Mangrove Caribbean restaurant, a meeting place for Notting Hill's Black community and the Fazl Mosque and East London Mosque, two of the first mosques to be built in London. Design elements of each of these places can be observed in the pavilion's design, which Vally hopes will drive awareness about the importance of these spaces, especially given the fact that many of them no longer exist. It is also aimed at preservation of these integral facets of London life, to prevent them from being destroyed by urban development. The pavilion's theme is the role that communities and social systems play in shaping architecture and the corresponding role architecture can play in influencing society; socially and environmentally.
The pink, grey, brown and black structure comprising a series of columns and inbuilt furniture has minimal carbon impact, being made from recycled waste. The steel frame wrapped in micro cement-treated Portuguese bricks has been made from repurposed steel and bricks from construction waste, while the black-stained cork panels covering the structure's exterior come from used wine corks. The sustainable design is something that Vally tries to incorporate into all her projects. The various textures and hues of the pavilion are inspired by London's changing light patterns. The pavilion's design also borrows from postmodern architects like Robert Venturi and Denise Scott Brown. Additionally, there are five smaller structures that form detachable fragments of the main pavilion. These structures have been placed at locations like New Beacon Books in Finsbury Park, The Tabernacle in Notting Hill, the Albany Arts Centre in Deptford and the new Becontree Forever Arts and Culture Hub at Valence Library in Barking and Dagenham; areas with a rich migrant history. The aim is to encourage local gatherings of people in these communities, apart from the usual visitors to the pavilion. After the exhibition, all the elements will be returned to their original location.
This year's exhibition has also installed an accompanying sound programme called 'Listening to the City',
aimed at connecting visitors to the sounds and stories of London's neighbourhoods. Through
Support Structures for Support Structures, a new grant and fellowship scheme for upcoming
artists in London, the pavilion's influence this year is being further accentuated.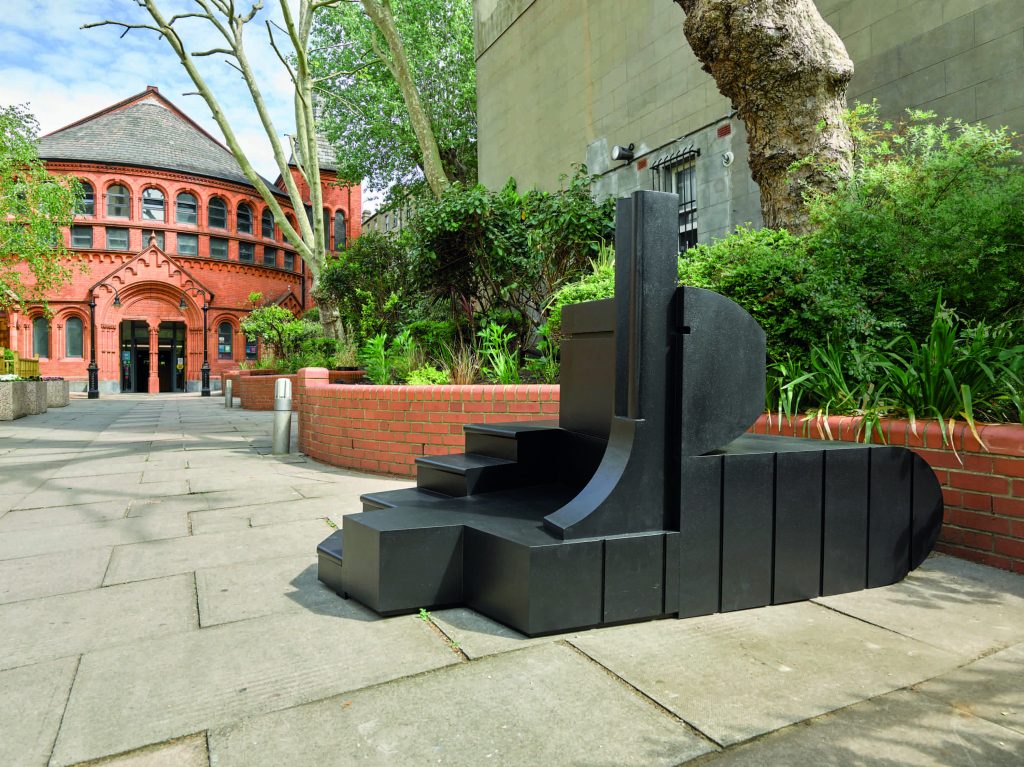 Changemaker of the future
Not surprisingly, Sumayya is inspired by architects who like her, think differently and view architecture through the lens of the social impact it can create. These include the likes of Isamu Noguchi, Zaha Hadid and David Adjaye. Vally encourages young architects to embrace imagination and change through different social perspectives, without allowing themselves to be restricted by conventional architectural practices. And what after the Serpentine Pavilion? Sumayya Vally hopes to go forth transforming cultural institutions such as museums, libraries and other public spaces into areas that reflect socially impactful architecture of the future.
ALSO SEE: LOCAL ARTIST, GODFREY DAMBULENI ON HIS RECYCLED METAL ART