Neglected corners in the home aren't the easiest when it comes to styling. Try these ideas to warm up that space and create an Insta-worthy spot.
A Splash of Green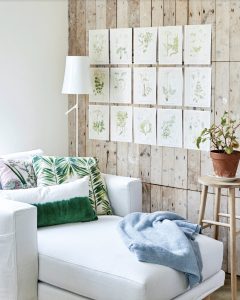 As if you needed another reason to get a plant, a quiet corner is a perfect opportunity. For those awkward-sized corners, a plant can be a fairly inexpensive way to spruce up the place, add that extra boost of O2 and include a splash of green, which is always a good thing. Try creating a plant cluster with various heights and sizes of the chosen plant babies as this will create visual interest. Also, consider hanging plants from the ceiling since this will draw your eye up and give the spot a complete look.
Shed Some Light 
Amplify your space with the addition of some warm light within your corner. Floor lamps are a great way to add extra lighting and still be power-friendly when it comes to that electricity bill. Add a side table and some small decor items, perhaps an ottoman too if the space is big enough for it. The curated space will probably become your favourite little hangout when it comes to a quick cup
of coffee.
Art Gallery  
When your floor area isn't sufficient, keep it clear and move over to your wall space. You can create an entire mini gallery in that corner with some gorgeous art. Look at adding one large artwork or perhaps a multitude of smaller pieces. If you would like to personalise it even more, consider getting your family involved or DIY them yourself with a few images from trusty Google to be redrawn. And if drawing isn't your strong point, abstract art is always in season. This also allows you to use colours that will best tie in with your room.
Extended Length 
Create height in a forgotten corner by using additional decor pieces that reach for the ceiling. A coat rack is a functional piece of furniture that not only fills the space but also serves a purpose besides looking pretty. Wooden coat racks certainly add a much warmer feel to the room, while metal finishes border on the minimal and sleek look for your space. If coat racks aren't your thing, perhaps try leaning a slim ladder against the wall. These are great for hanging a few throws over and also add enough style to the room, not to mention how on-trend they currently are.
ALSO SEE TOOLS EVERY HOME NEEDS