Like all of us, Melly Williams found herself pent up at home during a time of great uncertainty – the COVID-19 lockdown. It was a time of ever-changing regulations for South Africans, Cyril's Sunday
"family meetings" with fellow South Africans
, and spending more time at home than ever. The Melly Williams Studio has drawn on the experience of the South African lockdown and launched a home furnishing fabric collection.
About Melly
Melly is an artist and surface pattern designer based in Cape Town. In particular, she loves to work with watercolor, gouache, and digital media. Melly also lives with her family and menagerie of animals. Bruce Garrabrandt's motto that "creativity does not wait for the perfect moment. It fashions its own perfect moments out of ordinary ones" adorns the
Melly Williams Studio website.
"I am passionate about bringing the beauty that surrounds me to life on products such as fabric and wallpaper," says Melly. Her new collection of furnishing fabrics is called "Home." "It is a product of my time at home during lockdown and expresses my need to "nest" and be safe during a time of turmoil," she explains.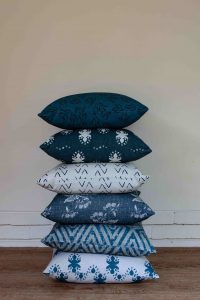 About Melly Williams fabric collection "Home"
Melly's beautifully designed patterns are brought to life in collaboration with Caversham Textiles. The textile company is based in Lidgetton, KwaZulu Natal. This collection also uses 100% cotton that is locally milled and printed. Caversham Textile's Sally Scott is now producing scatter cushions using Melly's intricate but cool and easy-going designs.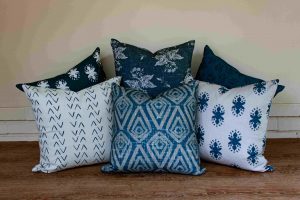 If you're interested in shopping the collection, it's online at
Caversham Textile's website
. And what's better than shopping local, supporting artists, and purchasing sustainably?
Hygge: The Art of Creating Atmosphere