Your home's lighting needs is not a one-size-fits-all situation. Each room requires something different and we're here to help you figure out what that is for some of the main spaces in your home.
Lighting tips for every room
Kitchen
You may not realise it, but your kitchen probably requires more lighting sources than you think it does. While many of us rely on only one, we should be considering the following:
> Ambient lighting: These include popular pendant lights that one would usually hang above a counter or island space. When installing these lights be sure that they are hanging approximately 90 cm-100 cm above your worktop in order for you to achieve the most light from them.
> Accent lighting: Accent lighting will add extra function to your space. Think tape lights at the bottom of toe-kick areas or in open shelves or glass cabinets to showcase dishes.
> Task area lighting: Task areas are the spaces where you do most of your food prep. These areas need to be well lit so would require bulbs that are at least 60 W.
Dining Room Lighting
Dark and shadowy is not really the vibe that you should be after in you dining room. The light in this space needs to be both functional and decorative. This is also, generally, the space that a chandelier would work well in. Remember that a chandelier requires sufficient space and ceiling height.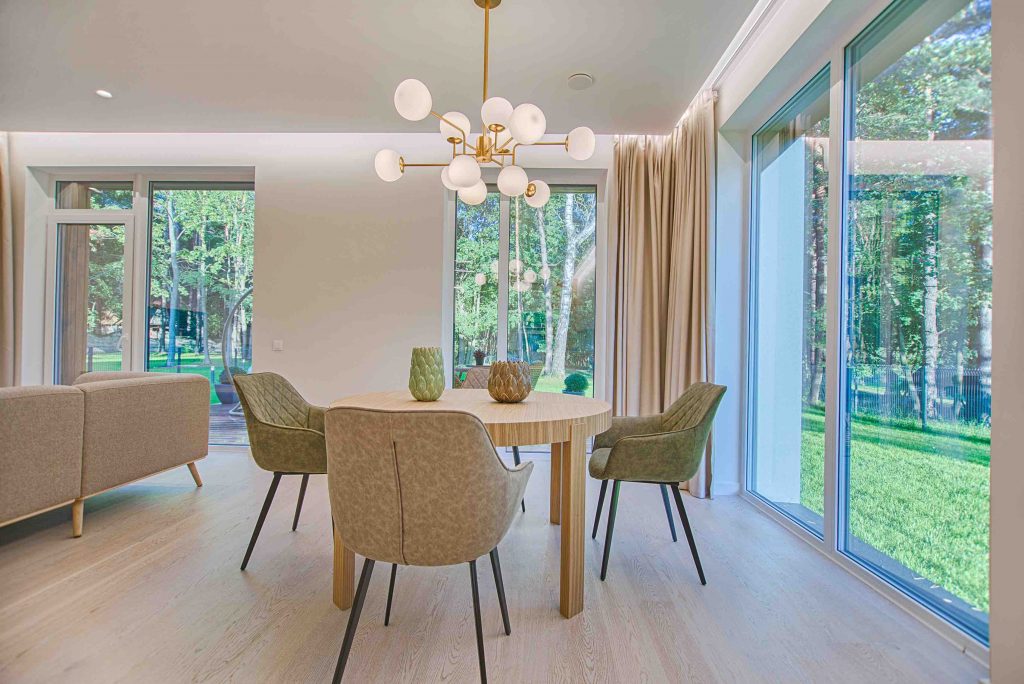 Living Room
The space in most homes that generally serves multiple purposes is the living room. You need the lighting to be as adaptable as the space itself. Track lighting is perfect for this space. Not only can they rotate, swivel and be adiusted to aim individual bulbs in certain directions, but they also come in a variety of colours that is sure to work in our space.
Should track lights not fit into your design style, pendant lighting may be the option for you. Both options can be made dimmable, giving you even more versatility in your space. This is especially important if you watch plenty of television in your living room, because, let's face it, nobody wants their favourite film or series to be disturbed by harsh light if it's not necessary (and it's really not).
Bathroom
It may sound strange, but nothing could be worse than bad bathroom lighting. Not only can it lead to a bad makeup job but incorrect lighting that may cast unwanted shadows by ensuring that no lights are pointing down towards mirrors. Instead install pendants or sconces on either side of the mirror as this will create balanced light distribution.
When it comes to your bathroom, opt for bright lights that can, preferably be adjusted as required.
Photo by Sidekix Media/Unsplash
ALSO SEE: HOW TO MAXIMISE NATURAL LIGHT IN YOUR HOME