All plants need a certain degree of light to live, unless you are growing mushrooms. Plants capture the energy from the sun with their leaves, a bit like solar panels and have learned to cleverly adapt according to their natural environment in order to capture light. If you look at any plant's shape and form, you can learn quite a bit. Plants that grow in shady, forested, low light areas have adapted to having a larger leaf structure, essentially, larger solar panels in order to maximise the surface in contact with sunlight. The way the leaves are arranged is also important in how they capture light.
What is low light?
Despite popular belief, ʻlow light' is not the absence of light. The term 'low light', in fact, refers to plants that naturally grow underneath larger plants. They don't need direct sunlight and can thrive with their light source being a number of metres away.
The types of wavelengths that plants absorb from the sun or an artificial light source is blue, violet, red, orange and yellow light. Plants do not absorb green light but instead reflect it back. That is why most plants have a green appearance to humans. In nature, the sun is constantly moving and plant leaves will naturally grow more evenly. Even in deep shade, outdoor plants receive more indirect sunlight than indirect sunlight when indoors.
The light source comes from only one angle making it important to physically rotate your plant for even growth and leaf development.
How does low light affect plant growth?
Low light will slow down your plants' growth, as well as their flower production as plants use the most energy during flowering. Just before a plant is about to die, it might use the last of its energy to produce a flower so that it can create seeds to survive. Growing plants indoors in low light might lead to your plant never flowering. Plants also become lanky and floppy in growth as they try to reach for the sun. Plants might drop their leaves, especially older leaves.Leaf appearance might become dark green and variegated plants might revert to solid green. Due to this lack of energy, they now need less water. Be wary of overwatering, as this could lead to root rot.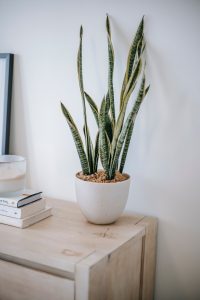 Plants to grow in low light
Chinese Evergreen
• Water requirements: Keep soil moist, don't overwater.
• Soil: Well-drained
• Difficulty: Medium
• Pet friendly: No
Cast Iron Plant
• Water requirements: Let soil dry out before watering.
• Soil: Well-drained
• Difficulty: Easy
• Pet friendly: Yes
Bird's Nest Fern
• Water requirements: Keep soil moist but well-drained.
• Soil: Rich in organic matter, peat-based potting mix
• Difficulty: Medium
• Pet friendly: Yes
Dumb Cane
• Water requirements: Let soil dry out before watering.
• Soil: Well-drained, peat-based potting mix
• Difficulty: Medium
• Pet friendly: No
Wax Plant
• Water requirements: Water regularly, let the top layer dry out before watering.
• Soil Type: Well- drained potting mix
• Difficulty: Easy
• Pet friendly: Yes
Money Plant
• Water requirements: Let soil dry out completely.
• Soil: Well-drained potting mix
• Difficulty: Easy
• Pet friendly: No
• Water requirements: Let soil dry out completely
• Soil: Well-drained potting mix
• Difficulty: Easy
• Pet friendly: No
ALSO SEE: TOP 5 LOW-MAINTENANCE HOUSEPLANTS