Love your lawn? Then you'll adore Wonder's latest offering with Wonder Lawn Booster. This lawn fertiliser is one of three freshly launched products in their organics range. Gardening lovers and freshly sprouted green thumbs – this solution is for you. Read on for the inside scoop on this exciting new addition to the Wonder garden care range.
Take the law(n) into your own hands
Achieve the greenest lawns of your dreams with Wonder Lawn Booster lawn fertiliser.
Wonder Lawn Booster is for anyone who loves their lawn. This high-quality slow-release fertiliser is perfect for applications at any time during the year. It provides deep uniform greening while slowly feeding your lawn for thicker and greener grass results. This new solution contains iron, a micro-nutrient that promotes the greening of your lawn.
Unique benefits
Wonder's garden care experts specially created this new lawn fertiliser to enhance gardens all year round. Gardeners get peace of mind knowing this product is developed with the latest fertiliser technology, while lawns thrive with the ultimate blend of ingredients.
Transform grass and turf with Wonder Lawn Booster's:
Slow-release and long-lasting plant nutrient supply

Low chloride content which doesn't interfere with lawn development

Slow-release nitrogen for sustained grass growth and prevention of ground- and surface- water leaching

Organic bio-stimulants to encourage root development and plant growth

Essential micronutrients (such as iron, which helps to strengthen your grass and improve colour, making your lawn greener)

Increases beneficial biology in the soil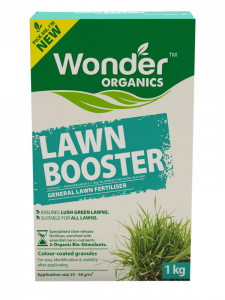 Wonder made sure your lawn gets the best and safest treatment with its slow-release nitrogen fertiliser. This formulation is safer for lawns than traditional quick-release products as it releases nitrogen gradually over several weeks. Why? It reduces the possibility of harming your grass by overusing concentrated fertiliser. You'll start seeing greener grass within a month, with noticeable lawn longevity.
Plus, Wonder Lawn Booster's fertiliser granules are colour-coated for easy identification and visibility after application. You'll be able to give your garden lawn a dose of fertiliser knowing exactly where you applied the product. And soon enough, you can expect:
✔︎ Greener and stronger lawns
✔︎ Improved soil health for a more resilient lawn
✔︎ Thickened and strengthened grass
✔︎ Enhanced lawn vigour
Find the right amount for your lawn
How to apply
Wonder Lawn Booster 1 kg is designed and developed to be used on all established lawns and lawn types.
Scoop and apply between 25 – 50 g/m

2

of Wonder Lawn Booster to your chosen lawn space

Repeat application every 4 to 6 weeks throughout the year. (This is about 9-10 applications a year)

Water well after each application to allow the product to soak deeply into the soil to reach the roots of your grass
Gardener pro tip
To achieve the best results for a lush and lively lawn, apply Wonder Lawn Booster before heavy rains and during early spring. This is to avoid product washout from storms and to apply at the optimum period before the warmer seasons are in full swing.
Things to keep in mind
To make sure you have the best experience when using this fertiliser, be sure to:
Not exceed the recommended rate (apply the right amount to benefit from its slow-release properties)

Water thoroughly after each application

Do not use if temperatures are expected to exceed 30ºC, when soil is very dry, or if plants are suffering from moisture stress

Do not use in windy conditions

We recommend you always wear gloves when gardening

Use as directed to protect children and pets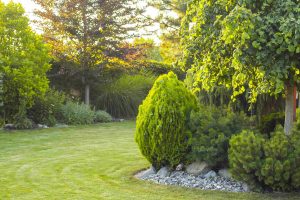 Lawns with longevity
Starting your lawn from scratch? Get a head start with Wonder's guide to perfect pastures. From soil prep to sowing seeds and maintenance, you'll soon master the art of lawn laying. Nail the process with a nifty video tutorial on lawn care.
To reinforce lawns with both nutrition and protection, bookmark their DIY lawn care tips. They separated their care routine between spring – summer and autumn – winter. Each set of seasons will have its own set of requirements in the lawn, so be sure to keep it handy.
Green on – long and strong
Find Wonder Lawn Booster in any of Wonder's nationwide retailers. Want to stock this lawn fertiliser in your shop? Contact your local Wonder distributor or agent representative for your province.
SEE MORE: The secrets to a lush lawn
SEE MORE: Spring gardening tips