Ornamental kale is bold, colourful and a must for any winter garden or mixed container. Here are 7 reasons to plant it.
1. Add colour
The colour combinations of ornamental kale are beautiful in the garden and it's no wonder its often referred to as flowering kale. From shades of white, cream and green to pink, purple and grey, the patterns and colours are brilliant. These kales are not used as edibles but rather as colourful annuals and they have been bred specifically to produce colour pigments that intensify in low temperatures. Plant together in a pot with other leafy plants like Heuchera and Ipomoea or grasses and edibles like parsley and pansies.
2. Easy to grow
Ornamental kale likes cool temperatures, full sun, and rich well-draining soil that is slightly acidic. Plant with the lowest leaves flush with the ground. Easy enough?
3. Easy maintenance
With these 3 simple rules, they can be easily maintained: 
Don't let the plants dry out, they need water.
Don't feed after planting as it could affect the colour.
Cut the flower stalks off as soon as you see them.

 
That's it. How simple is it to look after these plants? Once the temperatures increase going into summer, the colours will begin to fade and they are likely to bolt. They can then be pulled and discarded on the compost heap.
4. Can be grown indoors
With enough light, ornamental kale can be grown indoors. If you already bought the plant in a pot, all it requires is water, light and a little light grooming by removing any tatty leaves. For potting up your own seedlings, use a good potting mix and make sure your pot has drainage holes in the base. Once planted, water well and place in a bright location.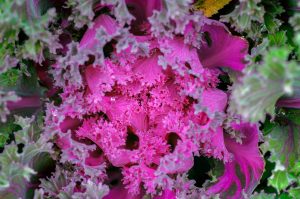 5. Can be sown from seed
Place moist germination mix into a seed tray and sow the seed thinly on top of the soil. Cover with a very thin layer of soil or vermiculite. Place in a shady area and keep the soil most until the seed has germinated in 10-14 days. Keep looking after the seedling for 4-6 weeks before planting out into the garden in soil that has been prepared with added compost.
6. Frost hardy
The cooler the temperature, the better the colours of ornamental kale. They are frost hardy, but in this case by frost hardy we mean light frost and not severe frost. They can withstand temperatures well below freezing of up to -15°C so are great for winter gardens.
7. Can be used as a groundcover
Planted in neat triangles, ornamental kale makes a colourful and interesting groundcover, full of texture. It has a big impact using the purple and pink varieties planted next to the cream and green varieties to form patterns or swathes or as borders to surround other annuals and perennials. Because they are easy to grow and require very little maintenance, they are a good choice for parks and sidewalk gardens.
Words by Madison Moulton
Photo by Nancy Hughes on Unsplash
ALSO SEE: 4 REASONS TO GROW MICROGREENS AT HOME THIS WINTER