Architect and writer Mary Anne Constable reminisces over the benefits and delights of indoor-outdoor spaces.
The house I grew up in in suburban Johannesburg had a raised veranda tacked onto the front, facing a green treed garden. The veranda was partially covered, decorated with generic white plastic patio furniture and one of those trendy brown-stripey retractable awnings (a good old 1980s fashion icon). We had many special occasions there – Christmas lunches, braais, and kids' parties – and many an ice cream was devoured (or dropped) while perched upon the side wall. During a thunderstorm, the veranda would flood with water and the tiles became perilously slippery. As little kids, my sister and I would spend hours slipping and sliding through the water in our swimming costumes. It was a place of delight, many different uses, and as a result, many memories. I always dreamed of growing up and having a house with a special indoor-outdoor space like this, but that was also protected from the elements enough so that I could have an actual couch in it. Enter the concept of a 'loggia'. 
What is a loggia?
A loggia, by architectural definition, is a covered exterior gallery or corridor attached to a building on one side and open to the elements on the other side, usually supported by a series of columns or arches. Loggias have a rich architectural history, dating back thousands of years to classical times. The concept developed in the temperate Mediterranean region, where having an open-air walkway or outside sitting room, tha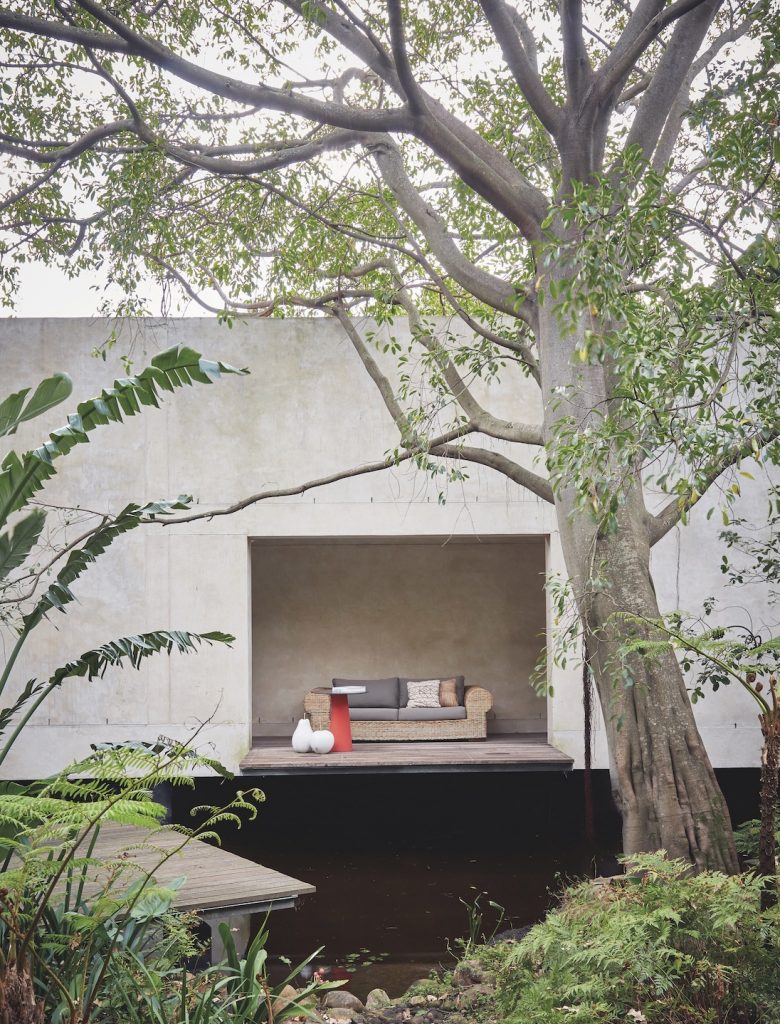 t was also protected from the sun, was highly desirable. As a feature of classical architecture, the colonnaded edges of a loggia inspired a sense of man-made symmetry and order from the outside. From inside, they framed the view of the landscape beyond.
A loggia could be a stand-alone feature, such as an entertainment area, or a corridor around a courtyard (which were common in classical buildings) that allows for sheltered travelling from one room to the next. Loggias serve a practical climatic function – they provide shade to internal spaces and help to cool them by allowing airflow around a building. Over the years, the concept of a loggia evolved into more than just any kind of corridor. It has become synonymous with a place of pause; of experiential transition from one world (inside) to another (outside) and a space to stop and savour the beauties of life. 
Loggias in contemporary times
In contemporary terms, loggia is often a fancy word applied to any covered or partially covered veranda (or patio), but a loggia, in the traditional sense, is always part of the architecture of a building (it is designed into the building plan from the start), whereas a veranda is not always, and could be added on as a separate room at a later stage. 
South Africans will already be familiar with the concept of a veranda or patio, and many already have loggia-type spaces in their homes that they might not be enjoying to their full potential. This year, South Africans have been spending a lot of time at home, and many are longing for a bit of extra space or a change in their space. 
Though loggias were historically a feature of grand public buildings, or large country villas, there's no reason why anyone can't enjoy the concept of an indoor-outdoor room in their home, no matter the size. In classical times there may have been rules that defined loggias, but today there are none, which means it's possible to capture the essence of a loggia in any type of space. 
Here's how you can add expand your living space, and a bit of delight to your home with your very own  loggia:
Tips for creating a loggia at home – with structural changes (and a bit of a budget)
This is for you if:
You own your house and have permission to create a structure on the property.

You have an existing patio/veranda that is uncovered, or partially covered.
Create enclosure that provides protection and shade: 

Build a permanent roof covering

Install a pergola with movable louvres

Add a retractable awning

If necessary, you can also screen the sides of your loggia (with timber slats for example) to provide extra protection or privacy

Create space:

Treat the interior of your loggia as a room in itself, not just a thoroughfare 

Add seating which faces the outside to enhance the connection with nature

Arrange some couches around a coffee table

Add a breakfast nook with a simple table and chairs

Create atmosphere:

Lay rugs, or floor mats to create texture.

Install some soft light fixtures or movable lamps

Toss comfy scatter cushions on your chairs or couches to suit your décor

Add greenery and/or potted plants
Tips for creating a 'faux' loggia at home – without structural changes (and a tiny budget)
This is for you if:
You are renting your house and aren't allowed to make permanent changes.

You can apply this to a balcony or any kind of spare indoor-outdoor space you have in your home or flat.
Create enclosure that provides protection and shade: 

Install any kind of covering that is temporary, such as a canvas sail

Add a freestanding umbrella

Create space:

If your space is very small, clear away the clutter

Add some small items of furniture like a small table and chairs

Throw down floor cushions and/or beans bags

Create atmosphere:

Lay rugs or floor mats to create texture

Install temporary lighting like fairy lights and candles

Accessorise with scatter cushions but keep décor minimal in small spaces

Add greenery and/or potted plants
ALSO SEE TOP 4 HOME DECOR TIPS