Holiday time (hello, entertaining!) wouldn't be the same without a wonderful selection of cheeses! Keep reading for top tips on how to make the perfect cheeseboard.
At a busy time of the year for home cooks, one of the many joys of cheese is that no cooking is required. All the hard work and flavour building has been done for you. Having a great selection of cheeses on hand in the fridge makes for a very easy meal. Serve yours with apples, crackers or grapes on the side, or as part of a buffet. Serving a cheeseboard is a delightfully leisurely way to round off a meal. But where to start?
MAKING A CHOICE
The key principle is to have a variety of styles and flavours. Having six cheeses allows you to offer a good range. One way to create a varied cheeseboard is by selecting different types – such as soft, hard or blue – and also different milk types – goat's and sheep's. Here are some of our local faves – all will make great additions to your festive cheeseboard this year.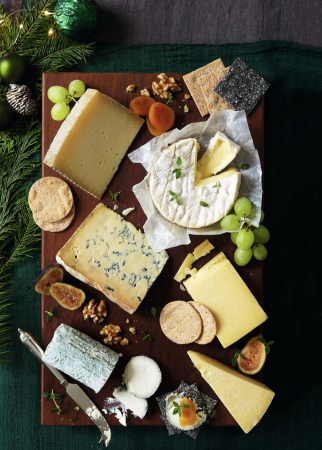 ✣ SOFT CHEESE
Fairview Roydon Camembert With its soft, rich texture and visually appealing, round shape, France's world famous Camembert is a cheeseboard classic for good reason. A whole wheel makes a lovely centrepiece. A Fairview favourite, the Roydon is delicately made using a traditional French method. Belnori Feta Feta is traditionally made using sheep's milk, but can be made by using goat's or cow's milk or even a combination of the three. A boutique Gauteng cheesery near Bapsfontein has won silver for its goat's milk feta. It is traditionally salty and pleasantly tangy, yet wonderfully creamy. Buffalo Ridge Mozzarella Firm and creamy, this mozzarella has a delicate flavour. It is produced just outside of Wellington in the Western Cape. Swissland Brie This cheese is made in a Swiss-style chalet in KwaZulu-Natal using goat's milk. It makes a tasty starter if lightly crumbed, fried and topped with a sweet preserve, or simply enjoyed with crackers and a glass of Sauvignon Blanc. Van der Poel Gouda A mild and milky six-month-matured Gouda, this is a great table cheese and pairs best with a crispy roll and tangy pickles.
Dalewood Huguenot This semi-hard cheese is brushed with a rind style and matured for six months to help develop its golden colour. Crafted in the Cape Winelands using milk from a Jersey herd, this nutty fl avoured cheese is worthy of a gold medal in 2012 at the World
Cheese Awards.
✣ HARD CHEESE
Cheddar is another great classic cheese that thoroughly deserves to be on a cheeseboard. A fine mature Cheddar has a lovely richness of flavour that is very appealing. Woolworths Vintage Cheddar Sharp, intense and 18 months old, this matured beauty has a nutty and complex flavour
with a creamy crumbly texture. Klein River Gruyère A grainy and tangy cheese crafted to perfection in the Stanford valleys, this is matured for three to six months.
✣ BLUE CHEESE
Fairview Blue Rock Probably one of the most well-known cheeses in South Africa, this creamy blue-veined cheese has a strong salty flavour and smooth texture, and has won an award in 2021
for the best cheese in South Africa. Cremalat Gorgonzola An ultra-creamy blue Italian-style cheese made at a family business in the heart of Joburg.
✣ SHEEP'S MILK CHEESE
Woolworths Manchego This Spanish cheese has a subtle nutty sweetness, characteristic of sheep's milk cheeses. Beaconsfi eld Halloumi Made in the heart of the Karoo, this delicious, mildly salted cheese is made from sheep's milk and is lovely when paired with red peppers and rocket.
✣ GOAT'S MILK CHEESE
Goat's cheeses used to be thought of as being rather strong, but today's are usually mild, with a delicate nuttiness to their flavour. Goat's milk is often used to make small, soft cheeses – in shapes ranging from discs to logs – which have a fresh, lemony flavour. Look out for examples of these made either in Britain or France, who have a long tradition of producing this cheese.
ALSO READ: How to put together a charcuterie board
Originally seen on Woman and Home
Featured Image: Edward Howell Via Unsplash