The holiday season is just around the corner, which means braais and outdoor family get-togethers on hot summer days. Rolux Managing Director Bruce Williams shares his advice on how to get your garden party-ready.
With lockdown restrictions easing, things are looking up for a happy and safe festive season together with friends and family. If a staycation is on the cards for you, get your garden looking gorgeous for the deluge of fun and festivities coming your way.
Green up your lawn
A green lawn provides a lush backdrop to any outdoor entertaining you may be doing. Start fertilising now with a good general fertiliser such as 5:1:5 (36) at a rate of 60g per square metre or use a specialised fertiliser for established lawns, which can be found in any nursery or hardware store. Always water well after fertilising to prevent your lawn from burning.
Water your lawn deeply but infrequently – once to twice per week, depending on the heat and rainfall. Pay attention to your grass during heatwaves as it may need more water. Water early in the morning or late afternoon so less water is lost to evaporation.
Mow smartly
This is always best done with your favourite brand of lawnmower to get the job done right, right now. The new Rolux Magnum X will help you get your lawn in shape in no time. Adjust the mower blades so that they don't take off more than a third of the grass height, put your headphones with your favourite playlist on full blast and go for it. Avoid mowing the lawn too short as this may cause unattractive brown patches, which you don't want for the holiday season.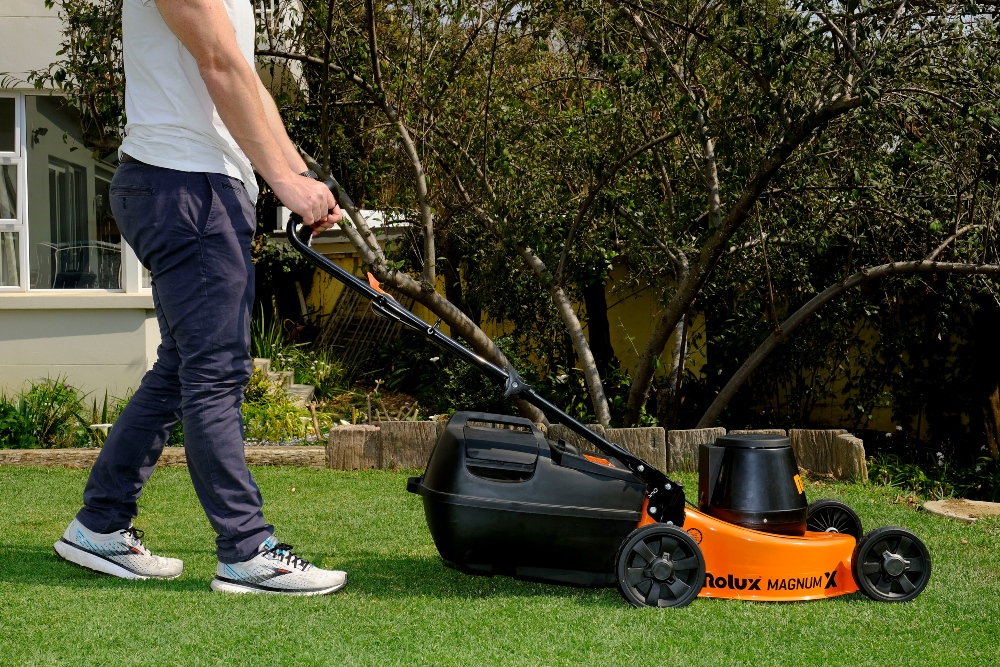 Neaten up
Recruit family members to help tidy up the garden clutter, pull out weeds and give your paved areas a good clean. Tidy lawn edges with an edge trimmer and neaten up shrubs and hedges with a brushcutter. Rolux's Magnum X Brushcutter will help you get the job done right and done fast so you can get back to the business of enjoying your summer.
Plant a new lawn
If your existing lawn isn't up to scratch, consider planting a new one. There are a few options; your choice will depend on your budget and how quickly you want coverage:
Instant lawn is the quickest and easiest (but priciest) option. You can buy this lawn in squares and lay it out where you want it, edge to edge. Use a roller, such as Rolux's 500mm Smooth Roller, to flatten the lawn and get rid of air pockets. Water twice a day for the first week, and thereafter twice a week.
Lawn plugs are less pricy. These you plant out about 25cm apart and you should get coverage within six weeks. Water daily for the first two weeks, and thereafter every second day.
Lawn seed is the most cost-effective option. Sow in spring and summer for a lush carpet in about eight weeks. Use your Rolux rake to even out the soil and remove any stones. Mix the fine lawn seeds with sand and sprinkle evenly. Rake over the seeds to cover them lightly. Water twice a day until the plants are established, and then once a day. Thereafter water twice a week.
Prune overgrown trees
Assess your garden's trees and the shade they are casting. Too much shade can hamper lawn growth and darken your outdoor area. Using a good quality chainsaw, like the Rolux Magnum X Chainsaw, open up the canopy a little by thinning out the branches carefully. This will let air and sunlight in and give your trees more shape.
Finishing touches
Add some instant colour by filling gaps in your borders with summer bedding plants or fill containers with flowering plants to brighten up your patio area. Then, light it all up with some garden lights – wrap fairy lights around tree trunks, hang string lights along a fence or in tree branches or push stake lights along pathways or garden beds. Choose LED or solar lights to conserve energy.
Going away?
If you are spending the holidays elsewhere, here are some strategies to help your garden survive while you're away:
Move pot plants and hanging baskets out of direct sun. Add a water retaining product, like Stockosorb, to the soil and add a layer of mulch to keep the soil moist for longer.
Mow your lawn and water it well. Postpone fertilising your lawn until you return.
Water your garden beds deeply – for about 20-30 minutes – every day for two to three days before you leave and apply mulch. Set your irrigation timer if you have one.
Content supplied.
ALSO SEE: PLANTING RESPONSIBLY: ENVIRONMENTALLY-FRIENDLY PLANTING PRINCIPLES