There's more to festive lighting than throwing a few lights on the tree.
Take It Outside
Other than the lights on
the Christmas tree, it's the multitude of lights adorning homes that many of us remember staring at in wonder as children. This is something that can easily be recreated today and you don't have to have a single flashing Santa Claus (unless you want to). 
Keeping it simple is always a good idea. Instead of making sure that your house can  be seen from the heavens,  be strategic in your light placement. If your home has drool-worthy architectural features, highlight them by outlining the roof, doorways and windows. If your garden has tongues wagging, light  the pathway and garden  bed boundaries. 
Colour-Coded
Before you get on top of your roof to start draping lights, be sure that you've decided on a colour scheme (and that you stick to it) to help make your light hanging life a lot easier. White lights are a classic choice, while traditional green and red are always a hot favourite.  But there's nothing wrong with a variety of colour either. Just be sure that you're happy with the placement of each colour that you're using because, let's face it, we've all had a moment of not liking the way the purple star and orange tree look next to each other when the lights are switched on. Nobody wants to be re-stringing lights several times to get the placement right. Instead, lay them out and plug them in on the ground before placing them on the house to be sure that you're happy with how the colours work together – especially with shaped lights.
Be Energy Savvy
Decorating your house with lights over the festive season could very likely add strain to your pocket because of the increase in electricity usage. Try to use LED lights as much as you can. They use less wattage while still packing  an effective punch for your  light installation.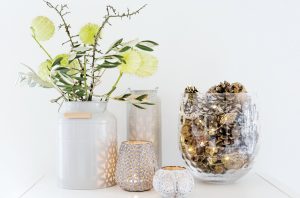 Step Inside
If you want to keep your festive vibe indoors, that's totally understandable, but don't think this means you're limited to adding light to your Christmas tree alone. No way! If possible, adorn your indoor plants with lights and wrap lights around curtain rods – especially those that do not actually have curtains hanging from them since you've installed blinds.  It doesn't matter whether you use a string of mini-festoon lights, snowflake-shaped lights, curtain lights or good ol' fairy lights as long as it works in your space, adds to the festive vibe and, most importantly, you  love it. 
Remember that candlelight  is good for more than just those loadshedding woes. Lighting a few strategically placed candles can create a lovely atmosphere too.  Candles also come in a variety of colours, shapes  and sizes so are able to add  to your festive décor as well. No matter what you do,
just be sure that it suits  your needs and taste, with  the main focus being on  spending time with your  loved ones.
ALSO SEE THE ANATOMY OF A CHRISTMAS TREE